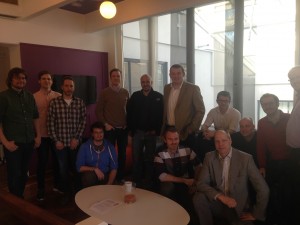 Yesterday the legendary Shay Banon, inventor of Elasticsearch and Arie Chapman dropped into to Comperio's Oslo office on their way to the Oslo Elasticsearch Meetup to talk about whats hot in Elasticsearch v1.x.
Shay gave the team the lowdown on the latest functionality, and Arie outlined interesting cutomers and use-cases. Shay also talked about how Kibana and Logstash can make pushing data in and out of indexes easier.
Comperio is really interested in the opportunities that Elasticsearch opens up for visualizing large datasets, particularly those generated by large distributed electronic systems. We will definitely be following up these opportunities with our customers, and hope to bounce some ideas off of the Elastisearch guys again soon.