Web Analytics is the process of measuring and analyzing web data to assess and improve the effectiveness of a website.Tracking and improving search (search analytics) is an important part of web analytics which is often forgotten by many site owners. Website search analytics should not be underestimated as it can provide valuable insights into what users are looking for or what they are not able to find on the site. Recently, I read somewhere about an organization which increased their conversion rates by just increasing the size of their search box and working on the searches with zero results. Therefore, measuring and analyzing search could be a very important aspect in improving website's effectiveness.
In this post, I will show you 5 quick steps to get started with Search Analytics:
1. Get Search Logs: There are various tools you can use to track and analyze your search. You many choose any one of them to get started depending on your business domain and organizational policies. I am using Google Analytics as a tool for this post simply because not only it is very powerful but it is very easy to start with. You can just create a google account and get started for "free". No infrastructure setup required. Place the JavaScript code in your website pages and you are ready to start measuring.
Please note that there are many other tools in the market for more specific purposes and with higher complexities. It really depends on what your needs are. Here, we will continue with Google Analytics.
2. Understand your Site Search Usage: Many people underestimate the use of search on their website. So, the first step is to measure how many people are using search. Even if 5-10% of your visitors are using search, it is not a bad figure (depending on your business domain and site setup). This could very well be the most used navigation on your website.

3. Analyze your Search Terms: Get a list of searched terms to start with. Most often, you will see that there is a pattern. Few terms are searched more than the others. It is important to analyze the top 10 searched terms individually. You might want to group the other terms (long tail) and analyze them separately.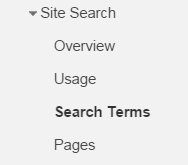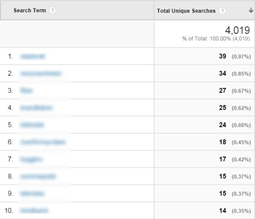 Try conducting searches for these searched term yourself and see if you are satisfied with the results. Did you get what you were expecting as the number one result? If not, you might want to make changes to your site to improve your search results.
Some additional things to ponder:
Looking at the searched terms do you see what you were expecting? Are their unknown terms?For example, if you have a product support site you might expect users to search more for some newly launched products.Do you see the product name or numbers in your searched term report? Are people looking for product comparison?
If you have some unexpected terms in your top 10 searched terms, then you might want to consider adding additional content related to those terms.
4. Evaluate User Experience: Are users happy or frustrated by the time they leave the site? Can they find what they are looking for or are they leaving immediately after performing a search? This is the toughest part because you are not sitting with the user and you can make only as much sense as the reports could tell. But the good news is that there are some metrics to watch out for which can provide valuable insights related to user experience. Couple of these metrics is shown in the picture below.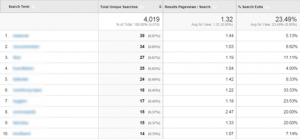 Result Pageviews/Search tells you about the number of results user viewed for the search term. If the number is too high you know that it is taking too long for users to find what they are looking for and they will not be happy about it.
% Search Exits is equivalent to bounce rate in web analytics. This number tells you about the percentage of people who left immediately after performing a search for that term without clicking on any of the search results. We would want this number to be as low as possible.
It is also important to evaluate search terms that produced 0 results. Users will not be happy to find zero results for their searches. There is no out of box metric in Google Analytics to track this but there are various ways to get around it using Events or Custom variables.
5. Improve Search Experience: What would you do if you found that there is a 35% Search Exit for your top keyword or 20 Result Pageviews/Search? In some cases this might be because the term is not spelled correctly or simply because user is using a term which is not an exact match with your content. For example, in an intranet environment of an organization, an employee is searching for "vacation list" but not getting any hits because you have "holiday list" in your content. Here, you might consider adding synonyms or best bets for these frequently search terms. Adding spelling correction like "Did you mean" or providing "related searches" for results could further help improve user experience and keep the visitors engaged in your website. If there are zero results for a search term you might want to consider adding additional content as well.
To conclude, I would say that there are lot of ways in which you can improve your site search analytics but the important part is to get started. It is not as tough as it may sound and it is worth the effort considering the amount of valuable information you get and the direct insight into user's mind.