More than half the traffic for the recipe site we're indexing comes from Ipads and Android Tablets. Because of this we've chosen to do pad first, mobile second and regular laptop/desktop third. So first up are Ipads and Android Tablets.
Recipe App User Experience on Ipads and Androids
How to sort the result set
The relevance model is now down to two variables:
Amount of in-season ingredients in a recipe
Date (year) that recipe was published.
Date will only be used to rank recipes with same amount of in-season ingredients.
Filters and drill-down possibilities
Main filters will be:
Light meal
Dinner
Desert
On these three filters you will be able to do a second filtering based on how short the recipe preparation time is:
Quick (40 minutes or less)
Slow/Thorough (more than 40 minutes)
Auto selected filters
The actual search is done without the user needing to do or type anything. An OR search for the current months ingredients is done when you enter the page. Default place will be "The Farm", since that's the closest thing to what you find in the supermarket.
The filters will also be automatically picked. During work days the "Dinner" and "Quick" filters will be set. Late Friday the meal type filter will change to "Light meal" and "Slow/Thorough". Sometime after 12 o'clock on Saturday, the meal type will change to "Dinner".
Based on the ideas for visualization of the search result, this is how I imagine the UX for our Seasonal Food Recipe App. To the left you have a search result for "The Sea" in May, to the right "The Sea" in January. We'll have a new prototype running soon. Next task will be to make the navigation sprite with a combination of the five places and 12 months (sun in different position for each month). Then HTML-prototype the three different search result types: Large (full width), medium and small.
Thanks to Qbox for letting us use one of their Elasticsearch instances!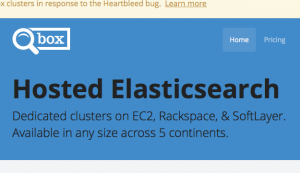 The recipe app is work in progress. Check back every now and then for new blog posts on the subject.