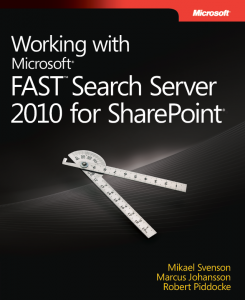 Comperio consultant, Marcus Johansson, co-authors 'Working with Microsoft FAST Search Server 2010 for SharePoint'.
As most search techies will testify, the life of a consultant working on complex enterprise search projects with large customers, can be quite a demanding one. To commit to investing personal time, outside of all this project work is, to put pen to paper and document a series of learnings and tips in a structured and user-friendly format, is no mean feat. So on this note, we salute Comperio consultant Marcus Johansson and congratulate him on the release of his first book earlier this month - Working with Microsoft FAST Search Server 2010 for SharePoint.
Marcus co-authored the book with Mikael Svenson and Robert Piddocke, who are also highly regarded contributors to the search community. Here, in Marcus' own words, is some background on the book:
The book is split into two parts: the first one explains what you'll need to know to deploy and administrate a solution. The second one is targeting developers who want to build their own search solutions on top of FAST Search for SharePoint. Although we expect most readers to have a SharePoint background, people who's worked with FAST technology in previous incarnations will hopefully feel at home as well.
Recognizing  FAST Search for SharePoint's popularity, and seeing that the product is many people's first exposure of Enterprise Search technology, the first two chapters introduce the reader to important concepts and terminology. We felt it was critical to get this backdrop right as there are vastly different data and user experience opportunities (and challenges) in Search technology, than in e.g. a database-driven solution.
The next few chapters  target the IT Pro audience and deal with such things as architecture, scale-out, deployment and security. Scaling, in particular, is covered in depth seeing how FAST Search for SharePoint is often used for top-tier solutions both in  query load and content volume. Additionally, day-to-day operations and the various methods of maintenance is covered in detail. We show you how to interact with and follow-up the system through the SharePoint GUI, but also how to work with the solutions through PowerShell and, for those adventurous people who wants to truly integrate the platform in their application environments, how you can integrate against FAST Search for SharePoint's native APIs even for administrational and operational tasks.
The second part of the book is a good fit for application developers who want to create their own search solutions on top of FAST Search for SharePoint, whether that means extending a default FAST Search Center or completely build their own search-driven application truly taking advantage of the powerful platform. Doing so, developers will realize an Enterprise Search platform, such as FAST Search for SharePoint, relies not only on a competent and flexible index, but also on a framework for advanced content processing and the possibilities to query into the data using a rich query language.
Finally, the book is wrapped up with a tutorial-like section on how to resolve common problems and how to attack frequent development scenarios.
At Comperio, we see how more and more of our clients realize the potential in not only implementing a global search experience in their enterprise, but to deploy targeted search-driven applications across their organizations. One user group might need a mash-up of data aggregated from several internal content sources, and perhaps another group needs to trigger a certain function that he or she perceives as a single operation, but in reality hits 2-3 different source systems in the backend. A search-driven interface is the very sweet spot for building such applications, and  I'm hopeful this book will give you the tools of the trade to implement them in reality.
Happy reading!
In recognition of Marcus' achievement, the team here in Comperio have given him temporary clearance to use lines like 'As I say in my book, Working with Microsoft FAST Search Server 2010 for SharePoint, …' in internal meetings and possibly even at customer presentations.
The book is now available for purchase on Amazon - or you can win one of three free copies being offered by Comperio, by being one of the first to tweet this post mentioning @comperiosearch.